Vince Staples new album is expected to drop very soon according to his label, Def Jam Records.
Even better, those lucky enough to be holders of VIP tickets to Staples and Kilo Kish's North American  'The Life Aquatic Tour' will be sent complimentary copies of the CD.
The tour features an opening sequence from Kilo Kish whom he has collaborated on tracks 'Surf' on his debut 'Summertime '06' album and 'Loco' on follow-up album 'Prima Donna'.
With a Wes Anderson-inspired tour poster, the tour will most likely focus on the success of his 'Summertime '06' and 'Prima Donna' albums but if his new album drops before or during the tour we are bound to here Staples spinning his new tracks on the road.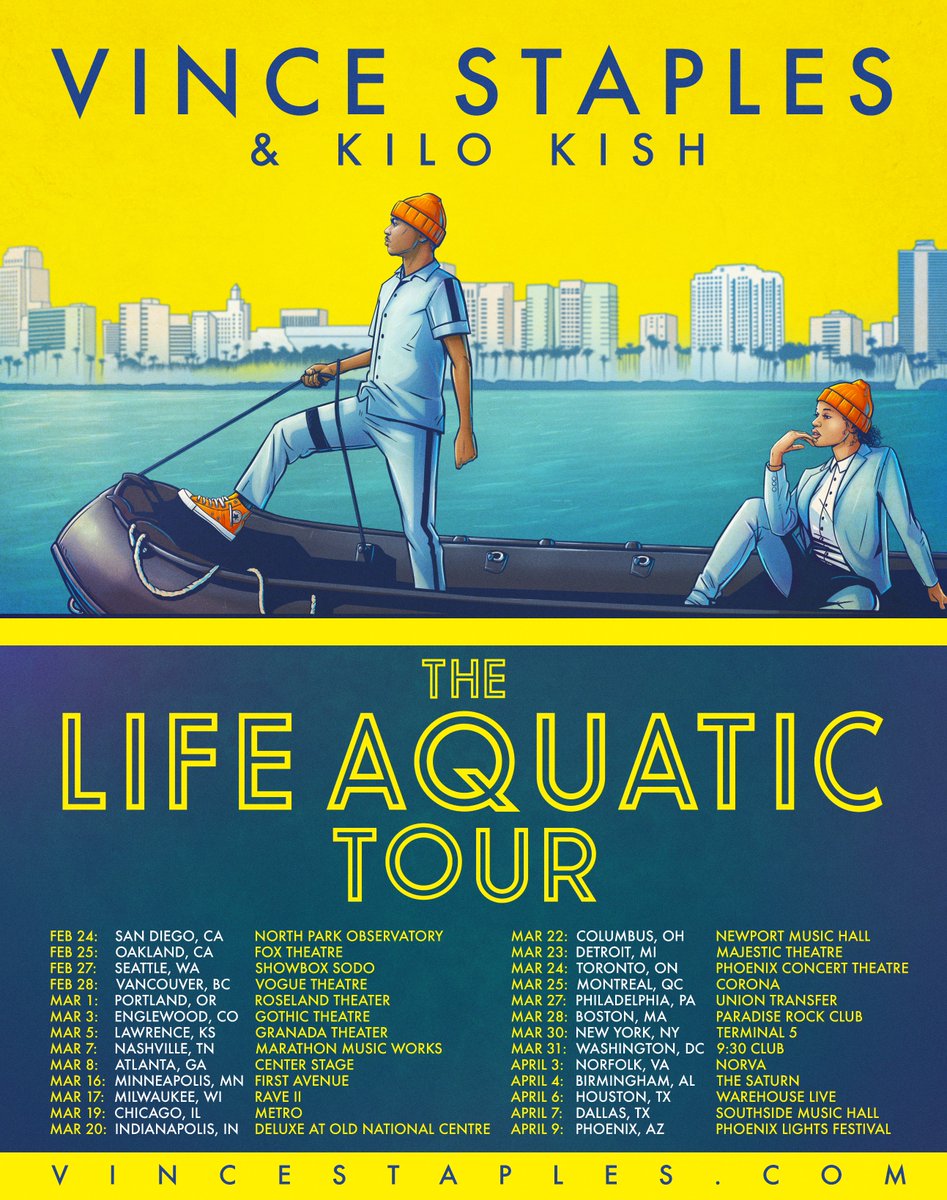 Staples recently released single 'Bag Bak' is expected to appear on the album, take a listen to the track below:
Growing up, Staples was not heavily inspired by rap music telling FADER magazine, "I didn't feel connected to hip-hop growing up. I never wanted a chain or mansion. I just want niggas to stop dying".
His refusal to follow the status-quo and the traditional romanticisation of rap culture is notable in his catchy track 'Norf Norf' where he proclaims "I'm a gangsta Crip/Fuck Gangsta rap".
So what should we expect from his new album?
Staples classic psychadelic gangsta rap blues production will most likely remain and penetrate heavily throughout the album alongside his lyrical celebration and humanisation of his hometown contrasted with his desperation to escape.
His common hard-hitting themes like'hopelessness' through the penning of the broken life around him focusing on his own city and the additional challenges presents Staples as an artist that uses his musical talents to raise awareness.
In my opinion, the album will most likely include a collaboration with Kilo Kish and will build on the themes and lessons learned from his previous albums fused alongside his  dank, ambitious production and bold bass line.
You can purchase 'The Life Aquatic Tour'  tickets here.